1. What did you do in 2009 that you'd never done before?
Organized a full on concert event -- more on that below.
Visited the Statue of Liberty
Started wearing V-neck shirts.
Had someone recognize me and got asked for a fan photo! Soo flattering. <33
Phallic picture with the Washington Monument -- been wanting to do that for YEARS.
Broadcasted/cohosted from the airplane bathroom.
Had my acting debut in the opening bit of Gabe's One Night Only in SF.
Fell asleep with my laptop on my bed -- Never did this before this year but now it's part of my routine.
Got naked on Tokbox/Tinychat. Now it's just routine, hahahah.
Had a song dedicated to me.
2. Did you keep your new years' resolutions, and will you make more for next year?
Last year I wrote:
Get my new business up and running.
Continue with the Nike+ Running thing I started this past year.
Curse less. I keep cursing around my baby nephews and other little kids. That's not cool. Expect to hear a lot more "freakin'" and "shiz" from me here on out...except for when I'm driving. LA drivers are dicks.
Total fail on all three of those. FML. The first two I didn't do much because I spend so much time with BTVfam. As for cursing less, I found it to be unpossible when living here in SoCal with LA traffic.
Next year's resolution? Get that new business up and lose at least 15 lbs.
3. Did anyone close to you give birth?
Amy gave birth to Jude.
Allie gave birth to Eva Brianna.
April just had her baby boy, Keoni, on Christmas Eve.
Two more babies in the fam are on their way.
4. Did anyone close to you die?
Nobody close to me (I think...please don't haunt me if I forgot...)
The world lost Michael Jackson this passed summer. His legacy will live on; amazing how one man can touch sooo many hearts.
5. What countries did you visit?
No new countries this year...but I got to hit up Washington D.C. and New York City.
6. What would you like to have in 2010 that you lacked in 2009?
Two years ago:
I'd like to have my new online business up and running! It's a lot of time, work and money on my part but my gut is telling me to do it.
Man, I've been slacking on this...it's so hard though. Before BlogTV, I had all the time in the world to work on this. Now I actually have a constantly exciting, keeps-me-on-my-toes social life.
7. What date from 2009 will remain etched upon your memory, and why?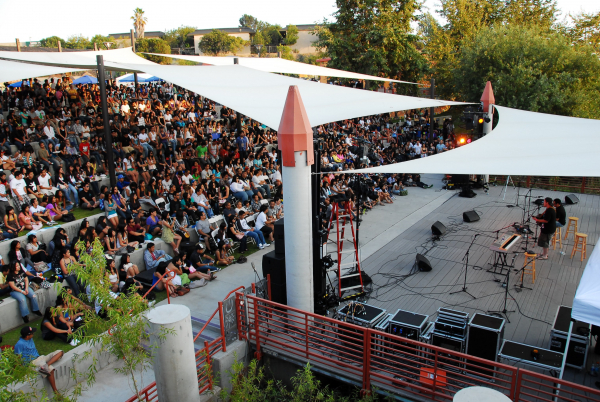 July 25, 2009 -- The Featured Acoustic Playlist
8. What was your biggest achievement of the year?
Organizing FAP. Like I posted before:
It's different compared to anything I've done in the past. It's not like class project where you're presenting something that you don't care about to a bunch of random students that you don't really know. It's not like in research paper where you can procrastinate to the very last hour, and when you get desperate, beg your teacher/professor for an extension.

This was something to be seen by hundreds of friends, over a thousand fans, and lots of money. The deadline was July 25, 2009 at 3:30pm sharp. Absolutely no exceptions. Oh man, the stress and the pressure of all this was beyond intense.

But it was totally worth it.
On a more casual note, I got hella people to sign up on Twitter and had roster of Facebook girlfriends, hahahah.
9. What was your biggest failure?
Same thing as last year, damnit...
Initiated the legal paperwork of starting my new business but have yet to finalize. I really need to find balance in what to do with my free time.
10. Did you suffer illness or injury?
Sniffles and the flu a couple times. The only time it really affected me was when I got really sick on my NYC trip. I couldn't enjoy my UDH meet-up as much as I would've liked to.
11. What was the best thing you bought?
Last year I wrote:
Gas. For the first time in a long while, I didn't care how high gas prices were. If I wanted to drive out and visit someone, I'd drive. Spending time with the people I love is far more important.
I still feel the same way. And in addition to that, I'd have to say all of my plane tickets. But for the sake of giving a different answer, I'll say...
Chris Cendana's planet ticket — the first expense that we had for FAP. Once we bought his ticket, we knew there was absolutely no turning back; it was our Leap of Faith.
12. Who did something that made you appalled or depressed?
Without naming anyone specific:
Whiners — I understand the need to vent about things once in a while. And I understand that people hit lows in their lives...but at some point you gotta realize it's not the world that's bringing you down -- it's your attitude. Check your Twitter/Facebook updates. If over half of them are negative, you're victimizing yourself.
Creepers — I've spoken enough about this person, hahah. We have an understanding now -- I'll stop putting him on blast if he stops creeping on my friends and my friends' friends.
Haters — If you're gonna hate one someone, hate on them for a good reason. Hate on them cuz they wronged you or someone you love. Don't hate on people cuz they're popular or more liked than you are, or simply cuz you don't know them.
I choose to be surrounded by good people that'll bring out the best in me; people to love, laugh and learn with.
13. Where did most of your money go?
Traveling — New York, Virginia, NorCal, Vegas...countless trips to San Diego. Worth every-freakin penny.
14. What did you get really, really, really excited about?
FYS Weekend
New York
FAP Weekend
Makinig Weekend
"One Night Only" Weekend
15. What song will always remind you of 2009?
Wonder Girls - Nobody.mp3
Chris Brown - Take You Down.mp3
16. Compared to this time last year, are you...
Happier or sadder? Happier — The happiness from last year carried over throughout this whole year.
Thinner or fatter? Fatter — FML. Lookin' forward to getting the concrete and basketball hoop set up in my backyard this upcoming year.
Richer or poorer? Poorer cuz of traveling. But hey, I'm still under 30, single and not in debt. I can let the good times roll for a little longer.
17. What do you wish you'd done more of?
Basketball — There was a seven-month stretch where I didn't even touch a basketball. That'll change this year, for sure.
18. What do you wish you'd done less of?
Getting less flabby — Kinda hard to resist though since I'm ALWAYS eating with friends after shows. And I tend to pig out when I'm traveling or when friends are in town...which was seriously ALL THE TIME.
19. Describe a typical day for you this year.
8:20 out of bed. 8:35am out the door. In the office by 9:30ish. Lunch be 2:00pm. Out of office by 5:30pm. BTVfam til 4-5 in the morning, hahahah.
Tuesdays and Thursdays I get to work from home...basically just use the extra hour to sleep in.
20. How will you be spending Christmas?
Spent it in Vegas with my parents, brothers and the Blakes.
21. Did you fall in love in 2009?
Same answer as least year:
I've become very fond of a big group of people this year. And there are a few girls in particular that I've grown a big soft spot for.
I've seen a lot of people come and go, but each one has a place in my heart. As Jae once posted:
I love my BTVfam. I miss you all..wherever your paths have taken you. I hold dear all the memories we have made and I'm excited to make new ones. We are BTVfam. Wherever you are, we are still here for eachother. We stick together.
22. How many one-night stands?
Two, and both times Sheena. She'll only hang out with me for one night and then leave me, hahahah.
23. What was your favorite TV program?
24. Do you hate anyone now that you didn't hate this time last year?
No. Hate is such a strong word. There's just a couple people that I prefer to not be around but that's several notches below "hate".
25. What was the best book you read?
Wow, I didn't read any books this year, hahah. Facebook. =]
26. What was your greatest musical discovery?
Same as last year:
Anything and everything in acoustic, acapella or performed live. It just seems like music in its purest form that way.
Amazing how many more musically-talented friends I've made over the past year, including Alyssa, Chris Cendana, Jenn Paglinawan, Joseph Diaz, Krystle Cruz, Krystle Tugadi, Manny, Melissa Polibear, Mike Isberto, Russy Isberto and many, many others!
27. What did you want and get?
Hugs from Alex, Alyssa, Chris Cendana, Chris Santa Ana, Fred, Hayleigh, Jan, Jessica Hayashida, Judy, Julianna, Katie, Kina, Krizia, MP, Pete, Phil, Rachel, Renato, Sheena, VJ and a TON more of you!
28. What did you want and not get?
Hugs from Chase, DesoMatt, Devin, Janelle, Justin Cheung, Kulay Mike, Marichris, Micah, Stace. I flew/roadtripped to see these people and it just didn't work out.
29. What was your favorite film of this year?
30. What did you do on your birthday, and how old were you?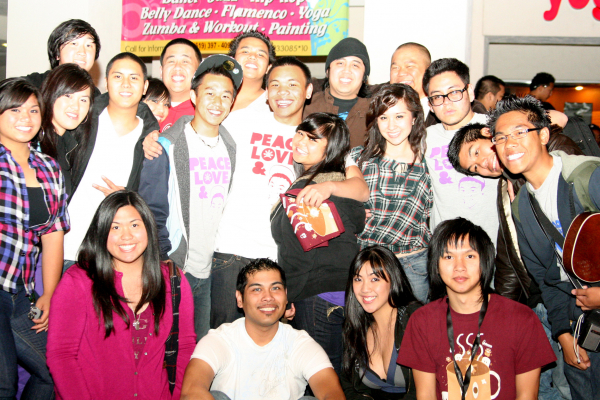 Turned 27. Spent it in San Diego to watch AJ, Cathy perform at Yogurt Time! Alex John was even in town from Chicago that night.
31. What one thing would have made your year immeasurably more satisfying?
Last year I wrote:
Another Laker championship over the Bastard Celtics.

Just watch.
Anyways, other than that I think I got everything I wanted this year.
32. How would you describe your personal fashion concept in 2009?
I fell back into the GAP and just stocked up on polo shirts and v-necks. They're just so comfy!
33. What words/phrases/slang did you pick up on this year?
"FML."
"My life is average." — from MyLifeisAverage.com
"Yeeeyeee!"
"Make me a sammich!"
35. Which celebrity/public figure turned you on the most?
Hahah, I'm not gonna say cuz there's a chance she'll read this. She has great hair, that's all I'm gonna say.
36. What political issue stirred you the most?
37. Who did you miss?
People that I've completely lost touch with over the year.
38. Who was the best new person you met?
Oh man, this question is absolutely unpossible for me to answer this year. Instead, I'm gonna attempt to tag this post everyone that I've met this past year.
39. Tell us a valuable life lesson you learned in 2009.
This year I've learned that:
The world is ridiculously small. One example: BK, Chad, Krizia, Micah all being connected. Another example: my coworker Harv randomly talking to a pizzeria guy and finding out that was my childhood friend, Mark Mowbray.
Certain people have this effect on keeping groups of people together. If those "connector" people leave, entire circles of friends can disappear into thin air.
Nobody likes the feeling of being left out. Not even the most confident of people.
As much as you want it to, not everyone in your life is gonna get along with each other. Everyone has at least a couple people that they dislike for their own reasons. You might not always agree with it, but you have to respect it. We're human — it's our nature to have imperfect relationships.
Drama always follows. I used to think that drama on the internet could never happen, simply cause "it's just the internet." But the reality is, at the end of the line is a real person with real emotions.
It's easy to give up Internet friends. I've seen some people completely disappear off the grid. And it sucks...but people leave for different legit reasons.
You should "never make anyone a priority if they're only willing to make you an option."
Sometimes you have to be an asshole just to get things done.
40. Quote or song lyric that sums up your year.
Missing someone gets easier everyday...Because even though it is one day further from the last time you saw each other, it is one day closer to the next time you will.

via Timirose
41. What are you looking forward to in 2010?
Harmony for the Heart
Alyssa's musical debut
Featured Acoustic Playlist 2
Hopefully ISA:NYC, For Your Soul 3
East coast trip — Not sure exactly where or when but I'll make it happen. =]